LATEST NEWS:
Lucy & Jim have also just been offered sponsorship from Bombers Equestrian, that will keep them in racquets, bits and clothing. Our sincerest thanks to Bomber and the team.
Polocrosse Photos on this page, courtesy of "Aussies in Action" W.A
2008 National Polocrosse Championship Success
Great excitement at the National Polocrosse Championships held in Perth in October, 2008, when Lucy & Jim Grills were very successful in the Junior Open division. Playing for NSW, they defeated , WA, Qld and SA on their way to the final, where they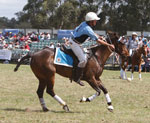 defeated Queensland 33 to 16. Lucy and Jim played together in the same section, and performed well on their horses
'Berragoon Ravers' and 'Berragoon Laney'.
At the conclusion of the carnival and at the individual
presentations, Jim and 'Laney' were awarded the Best
No1 in the Junior Open, and Champion Junior Australian Stock Horse. Lucy was awarded the Best No3 in the
Junior Open, Best Horse & Rider Combination, and Overall Champion Junior Horse with 'Berragoon Ravers'.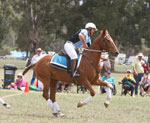 'Berragoon Flight' (by Rosebrook Falute) was ridden by John Scifleet (above left) from NSW in the Masters competition and went on to win the Champion Horse in that division.
'Shake', a chestnut gelding (bottom right) ridden by Doug Webb from NSW and also by Rosebrook Falute, was awarded Champion Australian Stock Horse in the Masters competition.