Inaugural Production Sale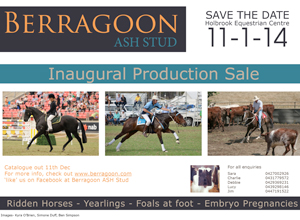 Please join us for the Inaugural Production Sale on the 11th January 2014 at the Holbrook Equestrian Centre / Racecourse. The sale will include 50 lots, comprising of Ridden, Yearlings, foals at foot, Embryo Pregnanices and Broodmares with foals on them. For more details, and to get a catalouge, email us on sjhg@bigpond.com
2013 Southern 50 Champions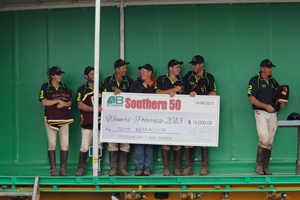 April 2013 saw a team of Berragoon Horses played by 6 Grills family members win $10,000- the first time polocrosse was played for money. Sara team manager and arguably head coach, prepared 6 Berragoon mares for Jim, Charlie, Lucy, Abbott, Matt and Ben Grills to compete on.
Berragoon Lipstick, Berragoon Favour, Berragoon Ravers, Berragoon Percussion, Berragoon Waves and Berragoon Off Key were the chosen mares for the weekend. The availbility of embryo transfer allowed us to play Ravers, with her 2 daughters Favour and Waves, and also to have sisters Off Key and Percussion also playing in the same team. Stonebrook Finno proved why he is a prominant stallion in the polocrosse world with 3 mares, Lipstick, Off Key and Favour all in the winning team and also Berragoon Thea playing under Chris Anderson in Sutton Sixers.
Lucy and Berragoon Ravers took out Best Horse and Rider and Best ASH of the carnival, Lucy was the only girl in the 8 team competition and showed why its more about horse power than gender.
Jim and Berragoon Lipstick took out the Best Under 21 Horse and Rider of the competition.
Australia v Ireland Under 21 Test Matches
In August the Berragoon Ponies headed north for Lucy and Jim to play against Ireland in the Under 21 Test Matches. Berragoon supplied 5 horses for the 2 teams to play on, Berragoon ravers, Berragoon Lipstick, Berragoon Off Key, Berragoon Percussion and Berragoon Laney. All the mares competed very well but this time it saw youngster Berragoon Percussion come away with the big prizes. She played #1 for Ireland with Joanna lavery aborad and then the following weekend Lucy played her as #2 and #3. Percussion was awarded Irish Choice Horse and also Champion ASH of teh Series. Not bad for her second season. Berragoon Lipstick was awarded Irish Choice Horse Ridden By and Australian.