The 'Berragoon' Australian Stock Horse Stud was founded in 1974 by Mrs. Pam Mills, at "Burrabogie" Station, in the heart of the Riverina, east of Hay.
A select group of primarily Thoroughbred mares were mated to a first cross Quarter Horse Stallion, 'Retford Quarter Inch' (by Mescal), and it was the progeny from these that were classified and entered into the studbook of the ASH Society. One of these colts named "Pemblegong" was to become the early sire of the stud, and some fillies were retained to breed to outside sires. The result of one of these matings was "Berragoon Quandong" the next resident sire at 'Berragoon'. "Quandi" was the progeny of 'Berragoon Jillaroo' and by the Ayr Gun stallion "Glen Alpine Royal Salute".

It was at this time that the stud moved to the Wantagong valley property "Mandaring", east of Holbrook in the South West Slopes area of NSW, where it remains today.

"Quandong" was lightly, but successfully shown, before taking up full time stud duties. He had the most fantastic temperament, which is evident in most of his progeny. Sadly he passed away in 2006 aged 23, but he left us with some wonderful mares, that we have had tremendous fun with, and that are now breeding on. Some of the more successful horses include: 'Berragoon Wall Street' Commonwealth Bank Star of the Year, 'Berragoon Nikkei' Maiden Series Final Campdraft winner, 'Berragoon Quilt' dual winner of 'The Man form Snowy River' and 'King of the Ranges' challenges, 'Berragoon Swivel' champion Show & Polocrosse pony, 'Berragoon Tune' champion Polocrosse mare, 'Berragoon Rita' polocrosse mare exported to England.
With the focus of the stud to now to produce horses for the chosen family sport of polocrosse, and the influence of the super sire Warrenbri Romeo in ASH pedigrees, the stud decided to inject some this famous horse into its bloodlines through the purchase of the Lindsay colt "Stonebrook Finno". Finno is out of the 'Comara Topline' (by Abbey) mare Stonebrook Liberty and was broken in and started on cattle where he performed very well before injury retired him to stud. From only 5 lifetime starts he had 1 win and a placing as well as finals berths. He has a wonderful temperament with an easily trainable mind that is passed on to his foals. He has some terrific horses to hit the polocrosse field and show ring, including 'Berragoon Laney', 'Berragoon Venus', 'Highway', 'Dolgwili Zulu', 'Berragoon Fizzle', 'Berragoon Paris', 'Berragoon Lipstick', 'Finella' ect.

An opportunity to acquire another stallion with completely different bloodlines, but equally well performed bloodlines in their chosen field, was taken up with 'Rosebrook Falute'. At four and a half years of age, unbroken, and running with mares, the challenge was there, but as he is soft albeit strong, he was broken in with little drama, and went on to win led 15hh Stallion class at the ASH Nationals in Albury. He offers us a nice cross for our Quandong and Finno mares, and his progeny too are starting to hit the polocrosse field, with the likes of 'Berragoon Flight', 'Berragoon Sin', 'Berragoon Hagrid', 'Trenton Bo Derek' and & 'Nioka Digby'.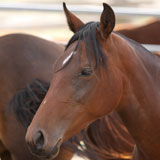 With a reasonable amount of experience in embryo transfer in the beef industry, it was a logical extension to the ASH stud to introduce the new technology to the breeding program at "Berragoon". After a few years doing our own mares, we had enquiries to offer the service through Holbrook Vet Centre to other equine breeders. So now, with a
band of 150 recipient mares, a large part of the breeding season is taken up with producing embryo pregnancies from elite performance mares for some of our clients, while also continuing to flush our own high profile mares for outside clients or our own use.
Our aim is to continue to play high level polocrosse, and to produce horses that are pleasing to the eye, trainable and athletic, that are suitable for a range of equine disciplines including our own sport.